173rd Airborne Brigade Marker Arlington National Cemetery
First Marker Inscription
In commemoration of all Sky Soldiers whose valor and sacrifice in defense of South Vietnam must never be forgotten "All Gave Some – Some Gave All"
Military insignias
Combat Infantry Badge      173rd Airborne Brigade Patch      Paratrooper Badge
Australian Army Insignia      "Sky Soldier" Crest      New Zealand Army Insignia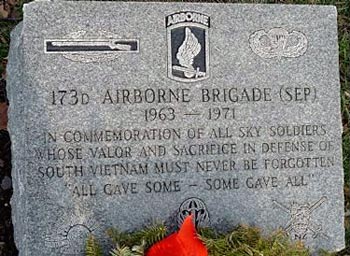 New Marker
Current Marker Inscription
In commemoration of all Sky Soldiers whose valor and sacrifice in defense of freedom must never be forgotten "All Gave Some – Some Gave All"
Current Military Insignia
Combat Infantry Badge      173rd Airborne Brigade Patch      Combat Action Badge
Australian Army Insignia      Paratrooper Badge Crest      New Zealand Insignia
Location
38° 52.734′ N, 77° 4.158′ W. Arlington, Virginia, Arlington County. Marker is in Section 33 of Arlington National Cemetery, off Grant Drive. Marker is in Post Office area: Ft Myer VA 22211. The memorial tree is a red maple.
Nearby marker
At least 8 other markers are within walking distance of this marker. The Vietnamese Airborne Division and their Advisors memorial marker is within shouting distance of our Brigade marker.
Credits
Most of the content above was from material submitted on January 19, 2009 by Richard E. Miller of Oxon Hill, Maryland to the Historical Marker Database.
173rd Airborne Brigade (Sky Soldiers) memorial tree information courtesy of the Arlington National Cemetery Visitor Information
View 173rd Airborne Brigade Marker location courtesy of Google Maps.
SAGA OF THE ORIGINAL BRIGADE MEMORIAL MARKER
As most of you are aware, in 1998 the Chapter took on the project to develop a memorial marker honoring all Sky Soldiers who paid the ultimate price during the years that the 173rd was engaged in South Vietnam.  That project was completed and the memorial marker was ceremoniously placed In Arlington National Cemetery.
In 2007, the Chapter realized that the original marker did not reflect the losses the reactivated Brigade was sustaining in the Global War on Terrorism.  The Chapter, once again took on the project to have a new memorial stone created that would honor all Sky Soldiers who unfortunately are KIA in all deployments of the Brigade – past, present, and future. The new memorial marker replaced the original in 2007.
The Chapter was then faced with a decision as to what to do with the original marker. The carved granite stone, weighing approximately 500 lbs, was offered to any other brigade Chapter that desired it.  When none came forward, it was then offered to any Brigade member that would ensure that it was treated with respect, kept undamaged and appropriately cared for. 
 A lifetime member of the 173d Association quickly responded to these requirements and the original marker was hand delivered to him in Daphne, Alabama.  SGT George M. Ward, planned to retain the marker at his home until development of a new section of a local cemetery was completed. When completed he had arranged to have the marker displayed there.  
Recently a question was posed as to whether this action had been completed. After several inquiries it has been confirmed that the original marker first located in Arlington National Cemetery is currently prominently displayed in the expanding Veterans Memorial Circle outside the chapel at Alabama State Veterans Cemetery at Spanish Fort, Alabama. SGT Ward faithfully completed his mission of ensuring that our original marker was located in a place of honor and reverence. 
It was also learned that SGT Ward has recently became a permanent resident of the Alabama State Veterans Cemetery. He left this earth to join the Great Jumpmaster in the Sky on 16 March 2019.
Rest in Peace, Sky Soldier!