BRIGADE MARKER
173rd Airborne Brigade Marker Arlington National Cemetery
173rd Airborne Brigade Marker; photo by Richard Miller
First Marker Inscription
In commemoration of all Sky Soldiers whose valor and sacrifice in defense of
South Vietnam must never be forgotten "All Gave Some – Some Gave All"
Military insignias
Combat Infantry Badge      173rd Airborne Brigade Patch      Paratrooper Badge
Australian Army Insignia      "Sky Soldier" Crest      New Zealand Army Insignia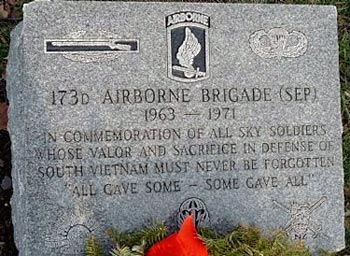 New (Current Marker) Inscription
In commemoration of all Sky Soldiers whose valor and sacrifice in defense of freedom must never be forgotten "All Gave Some – Some Gave All"
Current Military Insignia
Combat Infantry Badge
173rd Airborne Brigade Patch
Combat Action Badge
Australian Army Insignia
Paratrooper Badge
New Zealand Insignia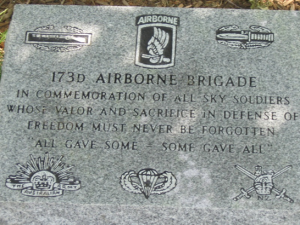 Location
38° 52.734' N, 77° 4.158' W. Arlington, Virginia, Arlington County. Marker is in Section 33 of Arlington National Cemetery, off Grant Drive. Marker is in Post Office area: Ft Myer VA 22211. The memorial tree is a red maple.
Nearby marker
At least 8 other markers are within walking distance of this marker. The Viet-namese Airborne Division and their Advisors memorial marker is within shouting distance of our Brigade marker.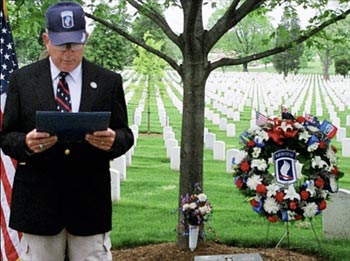 Credits
Most of the content above was from material submitted on January 19, 2009 by Richard E. Miller of Oxon Hill, Maryland to the Historical Marker Database.
173rd Airborne Brigade (Sky Soldiers) memorial tree information courtesy of the Arlington National Cemetery Visitor Information
View 173rd Airborne Brigade Marker location courtesy of Google Maps.
THE 173RD AIRBORNE BRIGADE NATIONAL MEMORIAL
First conceived in 1987, the 173rd Airborne Brigade National Memorial was finally dedicated on 1 June 2010, at Patriot Park adjacent to the National Infantry Museum, Fort Benning, GA. The memorial honors more than 1,700 sky Soldiers who died in battle as well as recognizing the Brigade which was instrumental in American military operations in Vietnam, Afghanistan, and Iraq.
Names of the 1,643 members of the 173rd Airborne who died in Vietnam, are permanently inscribed on the Memorial with the 92 who died in Iraq and Afghanistan. Sky Soldiers who pay the ultimate sacrifice in future combat operations in which the Brigade is committed will also be so honor.
The 173rd Airborne Brigade Memorial Foundation, a non-profit organization, continues fund-raising to provide for the perpetual maintenance of the memorial. To make a contribution or to find out more about the Memorial, visit the 173rd Airborne Brigade National Memorial web site at www.173dairbornememorial.org.
NATIONAL CHAPTERS
Visit the 173rd Airborne Brigade Association National Website [www.SkySoldiers.com] web site for other chapters contact information.
Chapter
Chapter 1    Washington, D.C.
Chapter 2    New York, New York
Chapter 3    Ft. Benning, Georgia
Chapter 4    Philadelphia, Pennsylvania
Chapter 5    Ft. Bragg, North Carolina
Chapter 6    Chicago, Illinois
Chapter 7    Florida
Chapter 8    East Washington State
Chapter 9    New England
Chapter 10    Western States – N. California
Chapter 11    Australia – New South Wales
Chapter 12
Chapter 13    Texas Chapter 29
Chapter 14    Southern California
Chapter 15    Minneapolis, Minnesota
Chapter 16    West Washington State
Chapter 17    Mid Western States
Chapter 18    Oklahoma
Chapter 19    New Zealand
Chapter 20    United Desert – Arizona
Chapter 21
Chapter 22
Chapter 23    Australia, Queensland
Chapter 24    Rochester, Minnesota
Chapter 25    Phoenix, Arizona
Chapter 26
Chapter 27    Southern States – Australia
Chapter 28    San Diego, California
Chapter 29
Chapter 30    South Carolina
Chapter 173    Europe – Italy, Germany
PARADE OF HEROES UNITS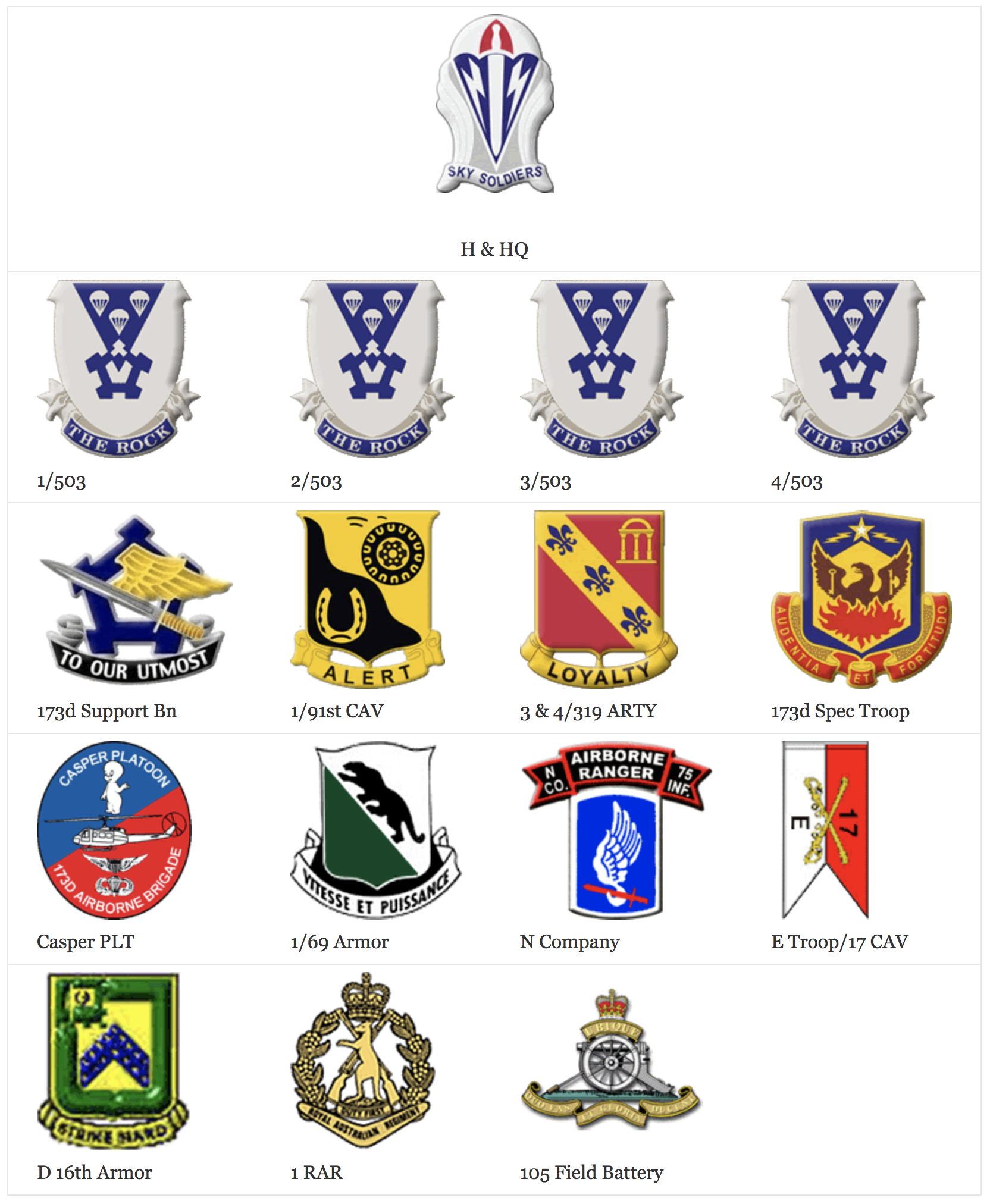 SIGHOLTZ FAMILY GRAVE MARKER ARLINGTON NATIONAL CEMETERY
Inscription
Robert H. Sigholtz
Colonel, U.S. Army
November 4, 1919
SS/2 OLC LM/1 OLC DFC BSM/2 OLC V
AM/13 OLC ARCOM /1 OLC
Roberta Catherine Sigholtz
May 12, 1924
Robert H. Sigholtz, Jr.
Captain, U.S. ARMY
December 16, 1945 KIA RVN May 29, 1969
SS BS/2 OLC AM ARCOM PH
Location
Arlington, Virginia, Arlington County. Arlington National Cemetery.